Kirkland and Kennedy identify William Ancrum (1722- 1808) in Vol. 1 page 344 as
"Of the wealthy firm of Ancrum, Lance and Loocock, probably never set foot in Camden, his extensive business interests here being looked after by such competent agents or partners as the two Kershaws. He was a native of the County of Northumberland England. On his tombstone in the old Scotch Churchyard, Charleston, it is written that he was "for many years, a respectable merchant of this city, and an elder of the Scotch Church of Charleston for nearly half a century. Through a long life of integrity and honor, he performed the duties of a man and Christian, and died, esteemed and regretted, on the 24 Feby, 1808 in the 86th year of his age."
Historic Camden Foundation is pleased to announce that descendants of William Ancrum, have loaned and given several historic items for display: The Louise Ancrum Steffens Collection of artifacts and furniture includes a portrait of the first William Ancrum painted in 1968 by Charleston artist Alicia Rhett.
Southwick (Cary) Briggs reviewed the collection and noted that "As we continue to explore the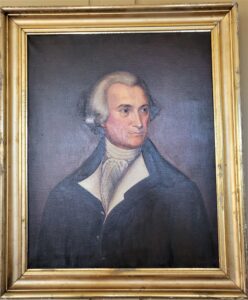 mercantile and trade aspects of early Camden, opportunities to tell statewide stories of the leading business concerns attached to the Kershaw name will add depth to our living history demonstrations and further engage America's remarkable story".  The William Ancrum portrait is complemented by the family loan of his 18th century travel desk.  An interesting box made of mahogany, hinged with brass and hiding several secret compartments.
Many items including the portrait and travel desk will be on display at the Kershaw Cornwallis House in January. Historic Camden Foundation members are encouraged to review the items on display.
Developing further information on William Ancrum and his Camden concerns, Historic Camden will enhance the exhibit with primary source records from the William Ancrum Papers, 1757–1789: Letter Book and Account Book held at the South Caroliniana Library. These records hold stories of Camden properties, accounts, overseer instructions and enslaved persons. In the digital collection description we see the many histories to be explored through his writings.
William Ancrum Papers, 1757–1789: Letter Book and Account Book
Clothing the African-American slaves on his backcountry plantation proved difficult for Ancrum throughout the Revolutionary War years, and a number of his letters address the problem. On 19 September 1776 he wrote to Captain Vesey about a cask of indigo shipped on board the brig Fanny and urged Vesey upon the ship's arrival in the West Indies to sell the indigo and invest the proceeds in "white or col[oure]d Negro Cloths such as is commonly used here for winter Clothing of Negroes." Again, on 30 October 1776, Ancrum urged Marlow Pryor to minimize the slaves' exposure to the weather because of insufficient clothing, and on more than one occasion urged his overseers to "plant some Cotton as there is no dependence on getting Clothing but by making Homespun." A letter dated 23 March 1776 discusses Ancrum's purchase of cattle and slaves, but notes that the latter decision hinged upon "the unsettled state of our public Affairs [which] at present discourages me from running a debt." The same letter comments on the scarcity of farming tools on the Charleston market: "there is not a Hoe nor a Bar of Iron to beg of in Town" and advises Pryor to "patch up the old ones in the best manner you can."