ADMISSION TICKETS AND PRICING
 Tickets are available online before the event, or at the gate. Discounts are available for advance purchase! 
Friday, February 1 – FREE admission
The rest of the weekend can be attended in one-day or two-day passes.  We will be open for shopping and curiosity seekers on Friday – free of charge.
$12.50 One-Day Pass
$20.00  Two-Day Pass
AT THE GATE: All tickets will be $15 per person.
PURCHASE TICKETS HERE! Select your ticket from the menu, then click "Add to cart." A separate tab or window will open, and on that PayPal page you can select quantity. Select "Continue Shopping" to return to this page (or select this page's tab), or check out from PayPal. Don't click the back arrow on your browser from Paypal or you will lose the transaction. CLICK HERE to return to the main page and find tickets for other activities.
**Disclaimer:  All tickets are non-refundable after January 15, 2019.  If you are unable to attend, you are welcome to pass that ticket to a friend, so they can enjoy the weekend.  In the event of a weather-related or other type of unforeseen circumstances, all tickets are non-refundable.  **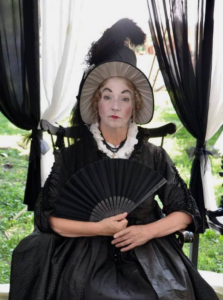 Meet Lady Caroline Linnington included with your admission ticket!
Click here to see the full schedule of events for the weekend!