by Lance Player: Communications Manager – Historic Camden Foundation
The name Joseph Kershaw is one that many people recognize, especially those from Camden. A name they're likely not quite as familiar with is Ely (Eli), Joseph's younger brother. Ely was born in 1743 in Yorkshire, England and spent his childhood there before traveling to the newly founded town of Pine Tree Hill in 1761. Joseph, with businesses already established in the town, took Ely on as an apprentice to work in his store. During his apprenticeship he was appointed as a tax collector. From there, he would go on to open Ely Kershaw & Co. at Cheraw Hill, now known simply as Cheraw. While in Cheraw, he served as overseer for the construction of Old St. David's Church. His influence in the Carolina backcountry continued to grow with his 1769 marriage to Mary Cantey, a member of a prominent area family.
At this point, Ely was well-established and had become quite successful, much like his brother, Joseph. Though he enjoyed his success as a businessman, the war that would eventually consume the young nation motivated him to answer the call to action. In 1775, Ely was commissioned as a member of the newly founded South Carolina 3rd Rangers regiment, led by Major William Thompson. During his service, Ely was involved in numerous battles and skirmishes, most notably: The Snow Campaign of December 1775, the Battle of Sullivan's Island/Fort Moultrie, the Cherokee Expedition of 1776, the 1779 Battle of Kettle Creek in Georgia, and the Siege of Charleston. By 1780, Ely had seen significant combat, which took a heavy toll on him, both physically and mentally. Ely traveled to Charleston to see to his business affairs and spend time tending to his health. During the Siege of Charleston he was still there recovering, and became one of the thousands of soldiers captured, as was his brother, Joseph.
They were taken back to Camden, where the British had established their inland forward operating base. They were paroled on June 10th, 1780 but Ely's health had spiraled downward after contracting smallpox. It is likely that Ely had already contracted the disease during his time in Charleston, further explaining why he had felt so weak and ill despite being there to recover. British commander, Earl Cornwallis, wanted to send the brothers away immediately but Joseph pleaded with him to delay their exile in order to give Ely time to recover. Cornwallis agreed to Joseph's request but on August 8th they were sent back to Charleston to be placed on a prison ship destined for Bermuda. Conditions on the ship were horrible and the seas were unforgiving. After nearly three weeks in such miserable conditions Ely's health worsened, until finally, he perished on the eve before the ship's arrival in Bermuda. Joseph would make arrangements for Ely's funeral and the handling of his affairs, and would remain in exile in Honduras until the war ended.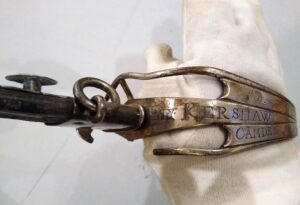 Historic Camden Foundation remembers Ely Kershaw and his service to his family, his home, and his nation by displaying his sword, engraved with the date of 1774 and his name. His sword was loaned by his descendants to be displayed at the Kershaw Cornwallis House starting November 6th.  Visit this beautiful artifact and relic and learn from our ACBA blacksmith on site how a sword was made in the colonial era.