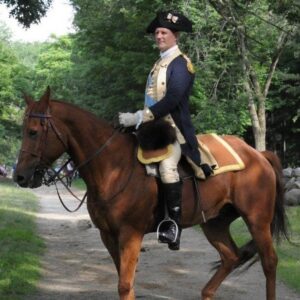 HUZZA
On May 13th & 14th, 2022, his excellency president George Washington will be in Camden to celebrate his historic visit of May 25th, 1791. And like his original visit, there will be a weekend full of celebration and a parade through the streets of Camden that all can attend and be a part of!
On the afternoon of Friday, May 13th, General Washington will be arriving at Historic Camden and preparing to host a dinner party at the Kershaw-Cornwallis House.  A catered buffet dinner will be served from 5:30pm to 7pm, at which time the fiddles come out and the dancing begins, led by the Camden Assembly of English Country Dancers.
Saturday morning May 14th at 10am President Washington, accompanied by over 25 mounted colonial dignitaries, will lead a parade from Historic Camden through downtown Camden to Hampton Park where his Excellency will read a short speech dedicated to General de Kalb.  After the speech Washington and the mounted delegation will lead the parade back to Historic Camden.
When we return to Historic Camden the colonial village will be open to the public. This will provide a great opportunity for Washington and the reenactors, both military and civilian, to do what they love, which is to interact with and educate the public on what it was really like to live in the 18th century.  We will also have Historic Camden's trades people working at our Farm, Forge, Brickyard, Pottery and Tavern.
More details about this weekend will be posted soon, including what we have planned for Sunday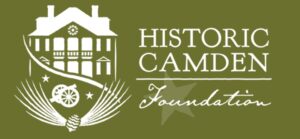 [washington-visit-form]