On Friday, May 13th, his Excellency, General Washington will host a fun evening at the Kershaw – Cornwallis house. There, dinner will be served from 5:30pm to 7pm at which time the fiddles come out and the dancing begins, led by the Camden Assembly of English Country Dancers.  On Saturday all of Historic Camden's campus of historic buildings and living history sites will be open to the public. President George Washington, with a mounted delegation, will lead a grand parade through the streets of Camden. Washington's mounted delegation will be followed by colonial reenactors who, like Washington's mounted delegation, have come to pay their respects to General Baron de Kalb, just as their ancestors would have on May 25, 1791 during Washington's original visit.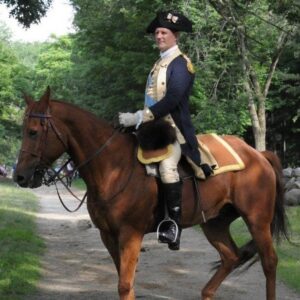 After General Washington's speech honoring General de Kalb, he will lead the parade back through the streets of Camden to Historic Camden. There, visitors will find the campus open and Historic Camden's trades people working at our Farm, Forge, Brickyard, Pottery and Tavern, offering a wealth of activities. We want you to take advantage of this opportunity to do what you love, to show people what it was like to live during the 18th century. We want you to join us in making this weekend of celebration fun, unique, educational, and of course, something to remember!

Reenactor/Demonstrator Registration
Reenactors/Demonstrators will be provided with straw and firewood for their camps, as well as a catered dinner, and English country dancing with accompanying fiddlers.