By: Virginia Zemp – Executive Director
The "New Normal" we are all experiencing has changed everything we do this year and will impact our plans for the near future. Preparing for the Visitor Center, Historic Camden Foundation had already started to make some exciting changes to share our colonial history and create a greater appreciation for America's story.
Our ability to show our buildings, experience the colonial way of life and engage the Revolutionary War story, continues to highlight an historic will to fight and survive. Enhancing spaces with exhibits will allow visitors and locals alike to revisit the remarkable sites we protect. To meet the safety of staff and visitors, SC Department of Commerce Approval Process for Gatherings and Events provides a planning and protocol process, which Historic Camden Foundation will follow. The City of Camden ordinance for masks and distancing will be adhered to on all Historic Camden properties.
Exhibits tell a deeper story with artifacts and living history, encouraging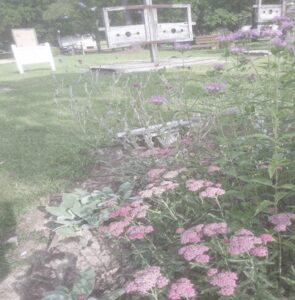 participation of visitors in Kershaw County's extraordinary story. In the Kershaw Cornwallis House, the exhibits are planned to be movable and retractable for rental and event opportunities. We have added artifact content to our guided tours. Throughout August and September, the first floor features a Native American Exhibit loaned from the USC Native American Studies in Lancaster.
Share a Little of that Human Touch: The Prehistory of South Carolina"
Discover over 12,000 years of Camden and South Carolina history beginning with the Paleoindian Period to the iconic Chiefdom of Cofitachequi. The exhibit displays decades of anthropological research and rare Native American artifacts. In addition, the Camden Archives have graciously loaned us their Native American artifacts from the "Collection of Lewis F. Anderson."
The exhibit was produced and funded by Humanities SC, USC Lancaster Office of the Dean, USC Office of the Vice President for Research, and USC Lancaster's Native American Studies Center. Special thanks to Chris Judge of USC Lancaster as well as Katherine Richardson and Rickie Good of the Camden Archives.
Historic Camden is a National Park Service Affiliated site, comprised of 100+ acres, much of which holds archaeological artifacts safely underground. We protect our spaces while continuing to encourage events, festivals and visitation as an economic development opportunity for the City. Under the current COVID guidelines, we will safely hold events and plan for the future, revising and pivoting as necessary to provide an enjoyable experience. Join us August 15th for the opening of our Joseph Kershaw Horticulture and Trade Program. 10am to 4pm to see how our spaces are being enhanced to tell your story.