Learn more about the art of brickmaking with the Historic Camden Foundation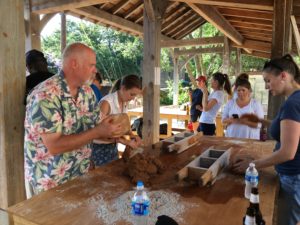 When you visit the Historic Camden Foundation Brickyard, you can expect:
To see how relevant the past is to properly train young men and women for the future.
Hands-on learning opportunities such as hand-making bricks or learning to build an 18th-century wood-fired earthen oven.
The chance to book the brickyard for fun social and team building events on Friday evenings.
The City of Camden has a long history of brickmaking and now visitors to Historic Camden will be able to get their hands and feet muddy making bricks at the new colonial brickyard. The brickyard is just the first step in a series of trade and horticultural hands-on exhibits designed to understand, interpret and demonstrate the tools and manufacturing processes used within the context of an 18th-century non-plantation, semi-subsistence society like the colonial town of Camden. Colonel Camden was the only multi-functioning, South Carolina, inland settlement during the Colonial period. We also want to say thank you to the brickyard founders, Hemp Earth & Lime Co with CI Labor Readiness Training Co.
Contact the Historic Camden Foundation: 803-432-9841 | info@historiccamden.org
---
In the summer of 2020, Journeyman Richard French will spend six weeks at Historic Camden's new colonial brickyard passing along his knowledge of bricklaying and refractory masonry to young men and women taking their first steps as apprentice bricklayers. French has spent more than twenty years working as a highly paid refractory mason, working all over North America.
The pre-apprentice readiness training program was created by Historic Camden to provide underemployed and unemployed young men and women, that have graduated from youth development programs like "YouthBuild," with the opportunity to work for large commercial and industrial companies as apprentice bricklayers or certified support labor at a living wage with ample opportunity for advancement within those companies.
Demonstration and workshops will be offered by Marti Wallace, a local Camden art teacher, and potter. And with the help of our new colonial brickyard pre-apprentice masonry students, we will be building a reproduction of an 18th-century bottle kiln.