On November 6, 2021 Historic Camden Foundation celebrated its' 51st Anniversary at the Main Campus on Broad Street. The day included an exploration of South Carolina Revolutionary War records and genealogical discoveries relating to veterans of our nation's fight for independence from Britain. The SC Archives and History Foundation ended the anniversary celebration with an engaging talk on the Marquis de Lafayette in South Carolina and a showing of the Lafayette jewel replica held at the Camden Archives. Historic Camden Foundation members met after the talk for an Awards Ceremony.  Special awards have been created in honor of two trailblazers in our mission of preservation, education and celebration of Camden's extraordinary story. Unique Around Camden Plates were made by Marti Boykin Wallace as the award gifts.
1) The Joanna Craig Award was established to thank her for her work, vision and ability to
encourage volunteer participation to keep the history alive and relevant.
2) In honor of our first Director Hope Cooper, we have established the Hope Award for
longtime service at Historic Camden Foundation. Hope gave years in the formation of
this site and has never stopped her volunteer involvement.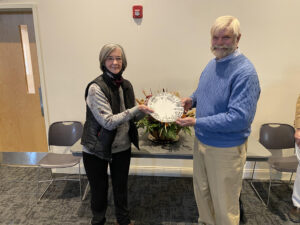 The inaugural Joanna Craig Award was given to Philip Hultgren for his assistance in identifying and performing the vision of the Joeph Kershaw Horticulture and Trade Program. Director Ginny Zemp thanked Philip for going above and beyond in his time, talents and commitment. "Philip's expertise and willingness to share himself with our staff and program has made all our efforts possible in terms of actual structural components – the bones of this plan would not have started without his help and that of his volunteer crew!"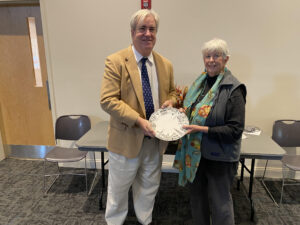 Historic Camden Foundation Co- Chairs, Karen Eckford and Tiffany Fields, with Hope Cooper, presented an Around Camden Plate to recipients of the Hope Award. "Longtime service is a hallmark at HCF and we did have a hard time making a decision" noted Tiffany Fields. Karen Eckford related that "Historic Camden Foundation's Board of Trustees is a working group and these last years have been full of growth and change, with inclusion of the Battle of Camden site, the Longleaf pine initiative and the City's Visitor Center project. In appreciation of the leadership and work done on Historic Camden Foundation's behalf, the inaugural Hope Award was presented to Amy Sheheen, Bob Giangiorgi and Davie Beard."