By: Virginia Zemp – Executive Director of the Historic Camden Foundation
AN ECONOMIC FORCE FOR CAMDEN:
HIGHLIGHTING THE SOUTHERN CAMPAIGN OF THE AMERICAN REVOLUTION
It is critical that Historic Camden remains strong to participate in the new Revolutionary War Visitors' Center at Camden, set to open in the spring of 2021.  The focus of the center will be the story of the Southern Campaign.  A visit next door to Historic Camden will be the first step in the journey of discovery.
Our partner, the American Battlefield Trust has an incredible website for learning about Revolutionary War battles. https://www.battlefields.org/learn/articles/southern-theater-american-revolution  Their website relates that "Many historians consider the Revolutionary War to have been decided in the swamps, fields, woods and mountains of the South, won by the resilience and determination of Continental soldiers and Patriot militia. Although the full story of the Southern Campaigns is not widely known, the events of 1779-1782 in the Carolinas directly led to an American victory in the war.
More than 200 battles and skirmishes occurred in South Carolina during the war. Working with a panel of historians and archaeologists to select the most significant of these actions, the American Battlefield Trust and the South Carolina Battleground Preservation Trust have developed plans to form The Liberty Trail, an innovative driving route designed to connect these battlefields and tell the captivating and inspiring stories of this transformative chapter of American history. The American Battlefield Trust and the South Carolina Battleground Preservation Trust are now working toward the launch of the initial phase of The Liberty Trail."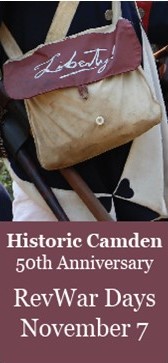 Historic Camden Foundation properties are included in The Liberty Trail and our displays must reflect the same
standards.   BCBS of South Carolina, OceanaGold/Haile Gold Mine, Luck Stone and The Brady Foundation have stepped up to get exhibits started. We need your time, energy and connections to prepare for the new opportunity. The Camden Visitor
 Center and its connection to the Camden Battlefield and the Liberty Trail throughout South Carolina have the potential for dramatically increasing tourism in Camden and Kershaw County.
November 7th, 2020, Historic Camden Foundation will highlight the Liberty Trail and the Southern Campaign of the American Revolution. Join us as we provide an outdoor living history journey on our Broad Street campus.  Visitors will engage the Revolutionary War Southern Campaign as you walk through historically related exhibits and demonstrations. Activities will be held outdoors and adhere to governmental restrictions for distancing and face covering.
More from American Battlefield Trust educational programs:
"The Southern Theater of the Revolutionary War is often reduced to the battles of Camden, Cowpens, Guilford Courthouse, and Yorktown. In fact, fighting in the Southern colonies raged through the entire war and was an area of great concern for both sides.  In the final years of the war, following the fall of Charleston to the British in May 1780, the South became the principal theater of the Revolutionary War. In addition to regular fighting between the armies, a civil war erupted between Patriots and Loyalists, with many small battles between militias raging throughout the countryside."