During this past year, you have been walking and reading with me on a journey through stories of Camden's colonial backcountry settlement, the Southern Campaign of the American Revolution and the Kershaw House as the 1780 British Forward Operating Base.
On August 15, 2020 our RevWar Days commemorated both the Battle that took place in our County on that day 240 years ago and we celebrated the hardworking colonial townspeople that continued to work the land and toil for their freedoms. We are grateful to have incredible artisans today, demonstrating the crafts which sustained this City during those early times.
Iron Forge Pottery Maker Brickyard Colonial Garden
In addition, to educate our visitors, we engaged the stories of the British Occupation of the Kershaw House through artifacts, cannon demonstrations and talks. Thank you to all who participated and visited our site. We look forward to more celebrations of Camden and Kershaw history. Mark your calendars for November 7th and the 50th Anniversary events celebrating Historic Camden Foundation's legacy of preservation and South Carolina's Liberty Trail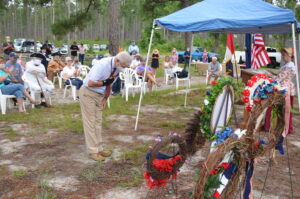 I want to share our opening remarks from the Battle of Camden Commemoration given by our Board Chairman, Bob Giangiorgi.
Thank you for joining Historic Camden Foundation for the 240th Anniversary of the Battle of Camden. We are proud to be the stewards of this battlefield and through it will create a greater appreciation of America's remarkable story.
I would like to focus our thoughts on an inspirational group who joined this Battle, giving the full measure here 240 years ago.
In April 1780, Washington chose Major General Johann DeKalb and his Maryland and Delaware troops to march south. In early May the foreign born DeKalb became the senior American officer in the South. Congress decided to place an American in charge and selected Horatio Gates. DeKalb agreed to continue in command of the Maryland and Delaware troops, and to serve as the second-in-command to the new southern commander, bringing him to this property in August 1780.
John Beakes apply describes the battle in his biography of DeKalb. "On the morning of August 16, 1780, Major General DeKalb rose and prepared for combat, as he had done many times over the past thirty-seven years. His strength, fitness, and imposing presence had served him well throughout his career, and brought him home safe from earlier engagements. Yet forty-five minutes later after the opening fire at Camden, the American army would be routed, deKalb's Maryland and Delaware divisions would be shattered, and his giant figure would be brought low by three bullet wounds and eight cuts from swords and bayonets. Captured and treated with the greatest respect by his British foes, his life slowly ebbed away over the next three days."
DeKalb, his troops and all those who fought and died on this land are why the Daughters of the American Revolution preserved this spot in 1909. And why Historic Camden Foundation protects our grounds and creates experiences to learn about their lives given to the American Revolutionary cause.
Let us consider those lives given as we join Major General Julian Burns in prayer.